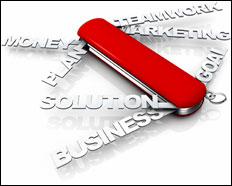 We're Not In The Computer Business
We're in the 'helping businesses' business. We understand that business owners are often required to wear many hats. Network support doesn't have to be one of them. Information technology is our core competency, running your business is yours. We'll keep your network running smoothly and efficiently so you can spend your time growing and maintaining your business instead of maintaining your computers.
We're passionate about helping our clients succeed and know that our success depends on it. Today most businesses are completely dependant on their IT infrustructure and few can continue to function without it. If you've already invested in a system we'll make sure you're getting the most out of that investment and that your network is pulling it's weight to help you achieve your goals. If you haven't yet implemented an IT solution we'll design one for you that will meet your current needs while being scalable to handle new demands as your business grows.
We have the tools, knowledge and experience to make your network and the devices on it run faster, more efficient and more secure. Give us a call and let us show you what a well-implemented IT environment can do for you.